Heavy rain prompts 'Flood Watch' for much of Northwest Oregon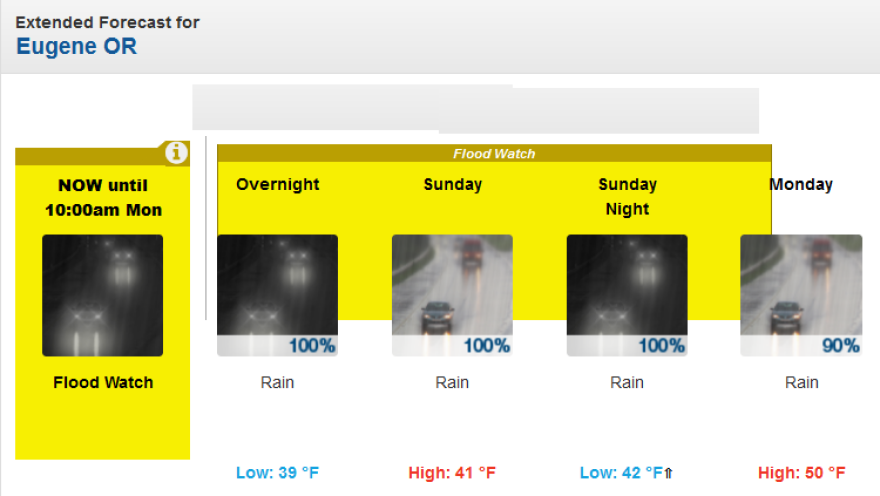 The National Weather Service has issued a Flood Watch for a portion of northwest Oregon, including the Willamette Valley, central Coast Range of western Oregon, central Oregon coast, and northern Oregon Cascade foothills.
Excessive rainfall is expected to continue through the flood watch period ending Monday at 10:00 am.
For the South Willamette Valley, the forecast calls for up to an inch of rain to fall Sunday, with another half an inch overnight Sunday. Coastal areas could see up to 1 ½ inches Sunday, and another inch overnight.
NWS says excessive runoff may cause flooding of rivers, creeks, streams, and other low-lying and flood-prone locations. Creeks and streams may rise out of their banks.
An area of moderate to heavy rain is expected to persist from the coastal Lane/Lincoln County area and extend northeastward towards Olallie Butte and Mt Hood for much of Sunday. The Siletz River at Siletz, the Alsea River at Tidewater and the Pudding River at Aurora are additional rivers the National Weather Service expect to rise.
Landslides are also a concern for the Riverside, Beachie Creek and Lionshead burn areas as a combination of snowmelt and rain destabilize hillsides.
In addition, the NWS says minor flooding may occur in urban and rural areas, particularly during heavier bouts of rain.
Standing water on roadways could cause hazards for motorists.
Copyright 2021, KLCC