Returning To Fiji After Cyclone Winston
Army veteran Laurlei Lowe had plans to return to Fiji with her native friends, the Ligavatu's. The Creswell, Oregon, resident was accepted as part of their family and tribe. Then Cyclone Winston hit. The three are disheartened but determined to return to the island nation.
Laurlei Lowe was the victim of two drunken driving accidents over 20 years. The result was ongoing physical and mental issues, which led to depression and issues with medication. In 2013, she traveled to Fiji.
Lowe: "The pain is less down there because of where they are at, and the atmospheric pressures. And here, [with the] arthritis, I'm miserable when it's wet and rainy and stormy, I suffer."
Laurlei met a Fijiian couple: Lisala Ligavatu and his wife Milikea. The three became close.
Lowe: "They brought me into their family and their tribe, and they made me feel like I was a part of them. I was invited by the chief and told I could come back and live amongst the tribe."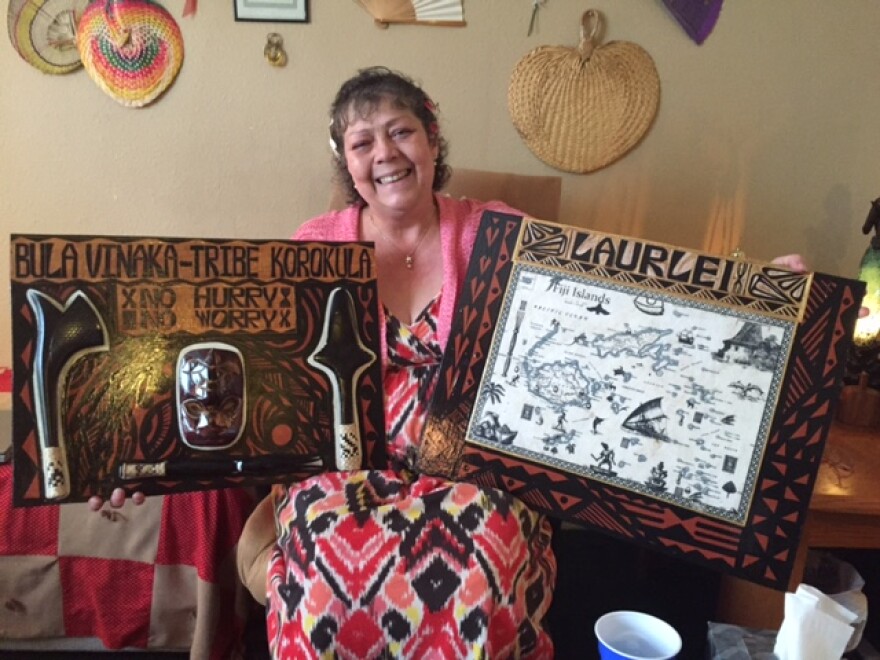 Laurlei says she never felt anyone in Fiji saw her as a damaged person but a member of their tribe. Milikea describes Fijian people.
Milikea: "If somebody gets sick four houses down from here, and I hear about it, I will go and visit, I will take whatever medication that suits that sickness."
That caring, nurturing attitude is why Laurlei returned to Fiji as soon as she could. It was during the second trip, the tribe's chieftain decided she could live there as long as her Visa would allow. In December, the Ligavatu's traveled to Creswell to help her re-locate.
Milikea. "I came here to take care of my very close friend and sister, and then she got better, and we were preparing to take her back home."
Then… Cyclone Winston ravaged the island nation.
Sound: "Cyclone Winston."
[That audio was obtained from a twitter post on NPR.org]
The tropical storm was the largest to ever hit Fiji. At least 40 people are reported dead, and there are still more unaccounted for. Lisala recalls feeling sad and lost.
Lisala: "I received a call from a church member in Fiji telling me that; Lee, 'It's not a good story, or good news, but I just wanted to let you know, your house is gone."
Now plans to take Laurelei back to Fiji are in flux. Milikea is not sure what they are going to do next.
Milikea: "Then it hit me on the face, that I wanted to take her home, but there is no more home. We are stuck here with nothing. It seems that fate has taken place."
The Ligavatu's are worried aid won't be available when they plan to return in May. They set up a GoFund me account to raise money to re-locate Laurlei and rebuild their home in Fiji.
Milikea: "All I know is a need to have at least a roof over my head. When I say that, I realize, I need clothes, I need food, I need all the necessities of life."
Milikea is confident their tribe will take care of them in some capacity when they return. Laurlei describes how Fiji is different than Western society.
Laurlei: "The doors are open, the windows, there's no blockade like there is here."
Laurlei is determined to return to Fiji. People have asked her why she wants to live in a country so damaged.
Laurlei: "Because it's not the place, its people. I want to go back there because I am the happiest I have ever been in my life. And I want that for the last part of my life."
The Ligavatu's intend to return to Fiji in May. Their new sister, Laurlei, plans to be with them. I'm Desmond O'Boyle in Creswell.
Copyright, 2016 KLCC
A link to the GoFund me account: