Local Agency To Provide Arts Education To All Elementary Schools in Bethel
In Oregon's education budget, school arts programs tend to get the short shrift. To make this up—districts often rely on community-based support to ensure students receive some arts education. This is what's happening in Lane County. KLCC visits one school in the Bethel District to see an artist-in-residence program in action.
These 4th graders at Prairie Mountain School are jazzed to be creating art. Half of them are cutting cloth for a quilt. The rest surround a large mural, paint brushes in hand.
"We're painting like a picture of the Oregon trail. And there's covered wagons, some horses…" (Shae Whitcombe, 4th grader)
"I'm painting the sky above the teepees. Which are live homes of the people on the Oregon Trail," (Aiden Askew 4th grader)
For three weeks, Prairie Mountain Students K through 8th grade will participate in this artist in residency program brought to them by the 40 year old non-profit, Lane Arts Council. Executive Director Liora Sponko:
"We've always partnered with schools in this way. But now since really there's no visual arts teacher in any of the elementary schools in Lane County, there's a huge gap," she says. "And sometimes when we're there, we're their only arts experience."
And arts disciplines offered are varied. Visual and performing arts, dance, theater and Tech art—like digital story telling.
Sponko says for the last 3 years, Eugene 4J schools have enjoyed a similar program called ArtSpark, thanks to funding from the Eugene Rotary. Now, she says businesses like Essex General Construction are spearheading support here.
"This is the first time we're teaming up together to provide an artist in residence in every single elementary school in the school district here in Bethel," says Sponko.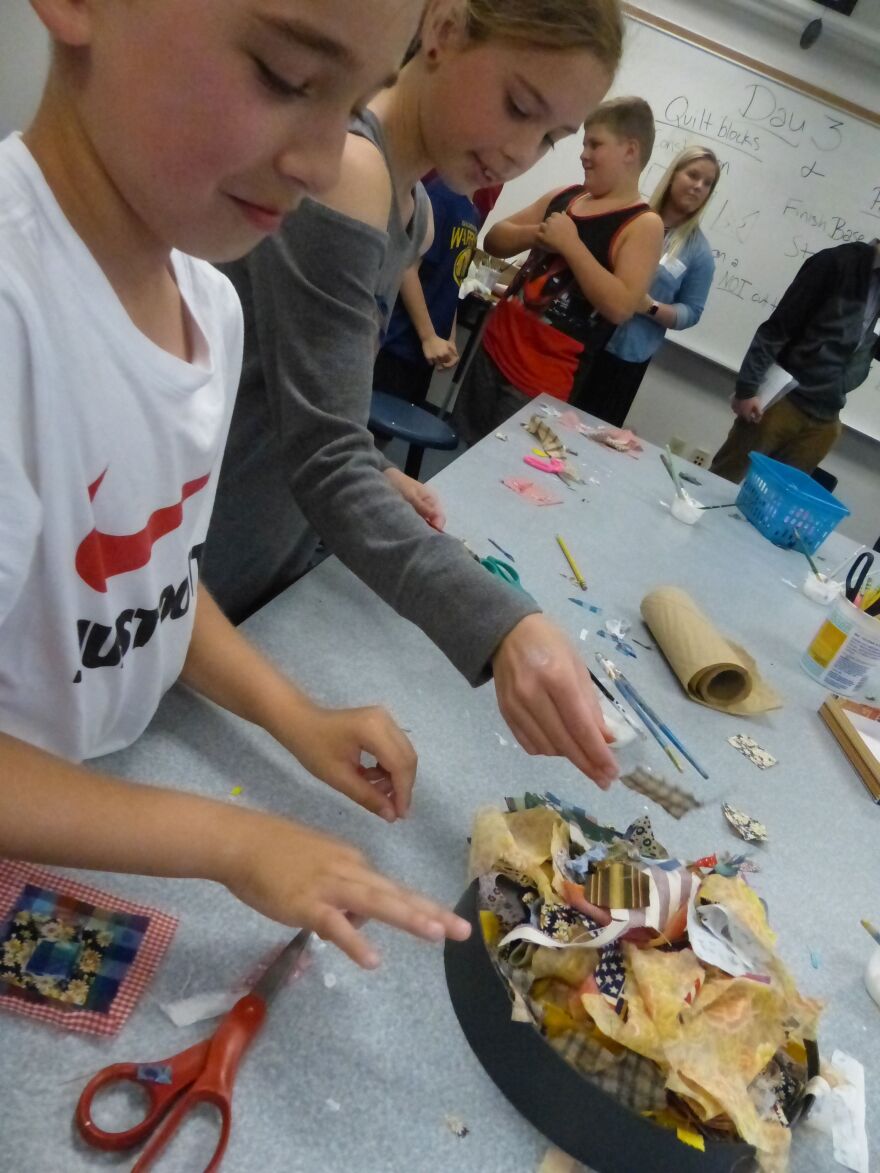 Jill Robinson-Wolgamott is principal at Prairie Mountain-"Home of the Eagles"—the students here call her Mrs. R.W.
Jill Robinson-Wolgamott is Principal at Prairie Mountain School, K-8 Students call her Mrs. RW for short!

"We have 642 students," the principal tells us. "About 65% of our students and families qualify for free and reduced lunch."
Painter Melanie Pearson is the artist in residence here. She says her goal is to spread the joy of creativity.
"It can be such a good tool in life for focusing and centering yourself," Pearson says, "and also using your brain in a creative way."
Reporting from Prairie Mountain School in West Eugene, Tiffany Eckert, KLCC News.
The voice of a child: "Now, can I paint?"
Next Stops: Lane Arts Council Artist in Residence programs will be in Danebo Elementary and Meadow View School in the Bethel District.