EPA Hazmat Crews Arrive In Blue River To Provide Wildfire Clean-Up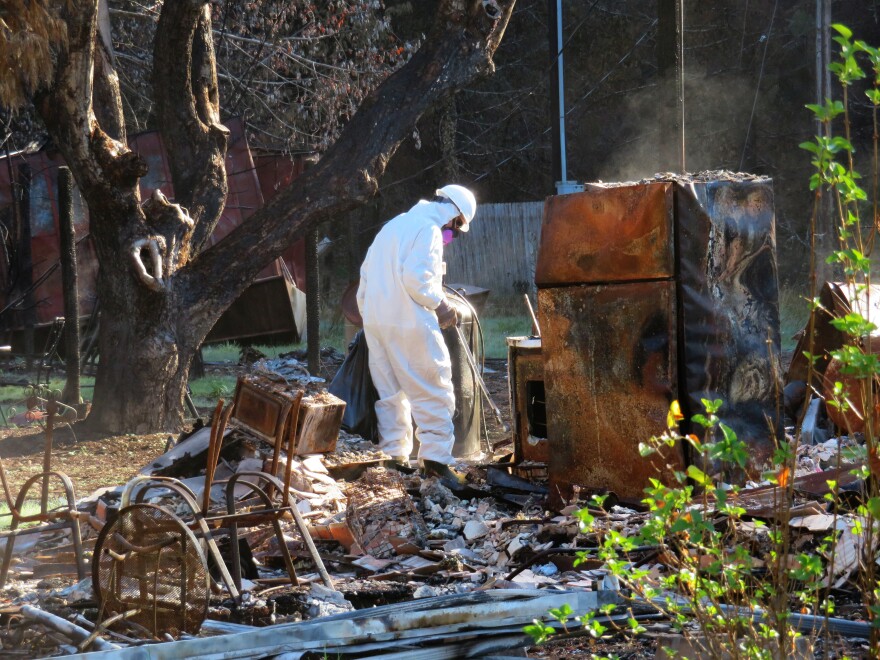 Clean-up crews with the EPA continue to remove hazardous waste from wildfire-stricken areas. KLCC's Brian Bull reports from Blue River, which was devastated by the Holiday Farm Fire in September.
A group of men don white hazmat suits before venturing into the foundations of what used to be a home. Many buildings in this small town have been reduced to their foundations, with the occasional chimney or porch steps indicating a house once stood there.
Randy Nattis of the U.S. EPA says 12 teams have worked in eight Oregon counties affected by wildfires, removing all types of hazards.
"Any sort of petroleum product, acids, bases, any sort of ammunition that we might find that's still active. So far we've cleared up to 500 properties throughout the entire response area, and over 45-50 properties on the McKenzie River."
The assessment and removal of contaminants is free for affected residents. They need only work through their local county to grant right of entry to EPA crews.
Resources and Information:
Oregon property owners ready to begin rebuilding and recovering from devastating wildfires now have a dedicated phone number (541)225-5549 to ask questions about EPA's removal of household hazardous waste at their property or provide additional details about their property that will help speed the removal work. The hotline offers service in both English and Spanish.
The removal of household hazardous waste is required before the property can be cleared of ash and debris. Property owners who have not already signed and completed a "Right of Entry" (ROE) form with their county are strongly encouraged to do so to help speed cleanup operations in their area. See: Oregon's Wildfire Cleanup website for more information on the needed forms.
Note: The EPA never asks for personal financial information like Social Security numbers or bank account numbers, and is only contacting people regarding household hazardous waste removal. If property owners haven't already visited Oregon's Wildfire Resources for Home and Business Owners, they should do so soon.
Copyright 2020, KLCC.