Skilled Immigrants Have Local Impact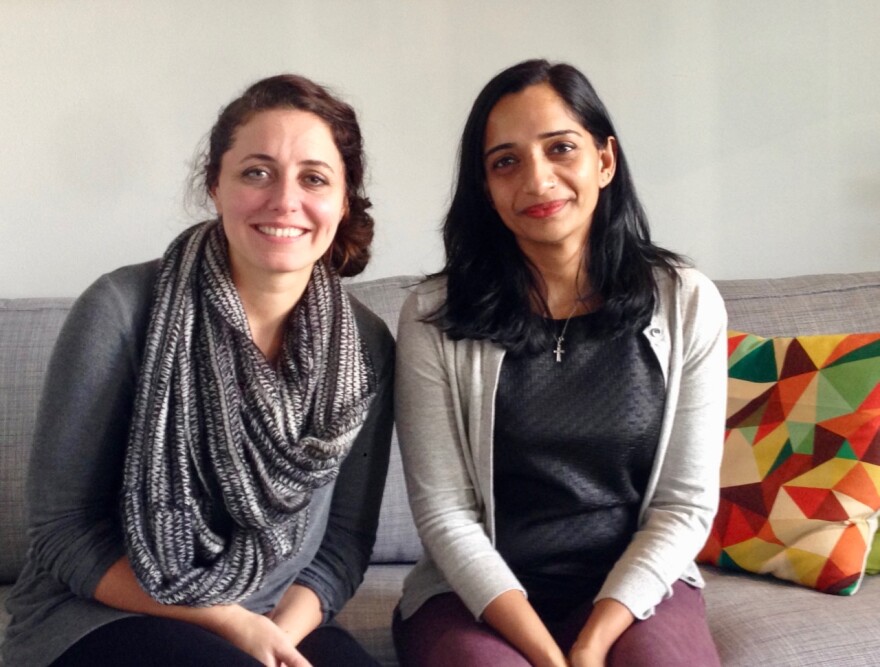 Last year, the "Buy American and Hire American" executive order implied skilled worker visas should be harder to get. The H-1B visa goes to a limited number of professionals, most with at least a bachelor's degree. Though largely associated with places like Silicon Valley, Eugene and Springfield are home to dozens of these immigrants. Here, we look at the local impact of the program, and possible effects should it change.
Like many young tech companies, IDX in downtown Eugene has a playful atmosphere. It's got pop culture décor and a lounge with pinball machines and musical instruments. The real estate software firm employs about 70 people. Three of them are foreign citizens, here on H-1B visas. Dhanya Harindran, a data engineer from India, enjoys her job:
Harindran: "I like where I am right now, IDX is an awesome company. The people are great, friendly, and I feel like it's the right mixture of work and pressure, there's not too much pressure."
In order for Harindran to get the position, IDX had to sponsor her. Celeste Marshall is the Human Resources Director:
Marshall: "We work with an immigration attorney to facilitate the paperwork process but there's a lengthy, it's about a three-months requirement to post a position, to confirm that the requirements that we have for this position are valid."
Marshall says they've been able to fill jobs unmet by the local labor pool, and:
Marshall: "We really have found that employees with diverse backgrounds bring a diverse approach to the workplace and it's added a completely different level of depth specifically to our engineering team."
The University of Oregon also values H-1B workers. Jingqing Liu from China, a Staff Psychologist at the Counseling Center, provides bilingual services. She's been at U of O five years. The H-1B visa is only good for six, but it's a dual-intent visa, meaning Liu can apply for a green card, which she plans to do.
Liu: "I think it will take about two years to go through the whole process and then after that, there's a huge backlog for Chinese and Indian citizens I believe and that's a couple years to wait even just to get to the point that I will be able to file the next step."
For now, applicants can work in the U.S. while they wait, but the Trump administration has threatened to change that.
Mubarak Hussain Syed studies fruit flies, heard here making a courtship song. Syed looks at the stem cells in their brains.
Syed: "I found a set of genes, genes which are expressed in these stem cells. When they are young they express one set of genes. When old they change the genetic programming and they express a different set of genes."
And he found a hormone that's key to the process. There are only a handful of people worldwide in this highly specialized field. Syed, who's from northern, Kashmiri India, is looking for his next position, likely a professorship with his own lab. He wrestles with how to conduct international interviews:
Syed: "Once you travel outside the country you have to apply for the visa stamp on the passport which is when I have these issues. If I have some interviews outside America, maybe in Canada or Europe, I don't know, it's hard to decide if I should go or not."
Dhanya Harindran at IDX lives in uncertainty. She'd like to pursue a green card, but she can't predict what will happen:
Harindran: "I'm like, I don't know, [I'm just hoping I get a visa to work, kind of thing. That's my future plan as of now. So I don't make concrete plans because it's always like, will I have to go back home sometime?"
Harindran has a four-year-old son, and says it's hard to plan for his schooling.
Visa holders also worry the instability of the program, or even added paperwork, may keep employers from hiring H-1B workers.
Dennis Galvan, Vice Provost of International Affairs at the U of O, says recent turmoil in immigration policy has broad consequences:
Galvan: "Signals from the Administration keep shifting ... it sends a message to our potential employees that we're not very welcoming as a country."
A chill may already be in progress in the sciences. Researcher Syed says other countries are stepping up funding. He says the U.S. may lose its place as a research leader:
Syed: "If you have to worry about politics, your focus is lost. So for example if China gives good resources just to science, people obviously will migrate. For scientists it doesn't matter where they do science, what matters is what they do."
Locally, the hope is the H-1B program continues unchanged. IDX wants to hire 10 people this year, including two skilled foreign workers. They'd like to rely on them for multi-year projects.
The U of O sees a significant need ahead. Dennis Galvan says the new Knight Science Center will require perhaps 50 foreign employees, skilled in biotech and applied sciences:
Galvan: "You can't get to the cutting edge without the people who drive the cutting edge forward, and we would love to populate it with Oregonians, but in order to get there we need top global talent."
If policies change, whether it's to deport people waiting for green cards or limit the number of H-1B visas, it will certainly affect working families. It'll also impact the companies and institutions that hire them, and perhaps dampen the overall level of excellence the United States is able to achieve.
Funding for KLCC's "Borders, Migration, and Belonging" series is provided by the Wayne Morse Center for Law and Politics and the University of Oregon.