As Canada Goose Populations Recover, Northwest Farmers Pay The Price
The West Coast of the United States and Canada is like a superhighway for migratory birds. Dozens of species travel from summer nesting grounds in Alaska down into Washington, Oregon and California. The cackling Canada goose is one of them.
In the 1980s there were only about 25-thousand left, but now the population is averaging more than a quarter million.
It's farmers in Oregon and Washington that are paying the price for the recovery.

Marie and Joe Gadotti are sick of the geese.
Marie Gadotti: "I have my own pet name for them; they're flying rats."
The Gadottis farm about 400 acres of small grains and legumes near the northwest Oregon town of Scappoose. On a gray, drizzly December afternoon, they drive their pickup through brown fallow fields.
Marie Gadotti: "Typically, you would have been coming down here and seeing three different colors of green. The peas are one color. The wheat is one color. Now we just have these blank fields."
Beginning in fall and running through early spring, cackling Canada geese come to Oregon. They go where they good stuff is – newly planted fields - and mow down young tender grasses. And there's very little the farmers can do about it.
Joe Gadotti: "See we got a big group over there, one over there and one landing."
Joe is an expert as spotting the flocks of geese in the low orchard grass in the distance. There's probably 2000 birds dining at the Gadotti salad bar - likely a mix of migratory and residents, geese that have stopped flying north and live locally year-round.
Brandon Reishus: "Goose management is a complex world."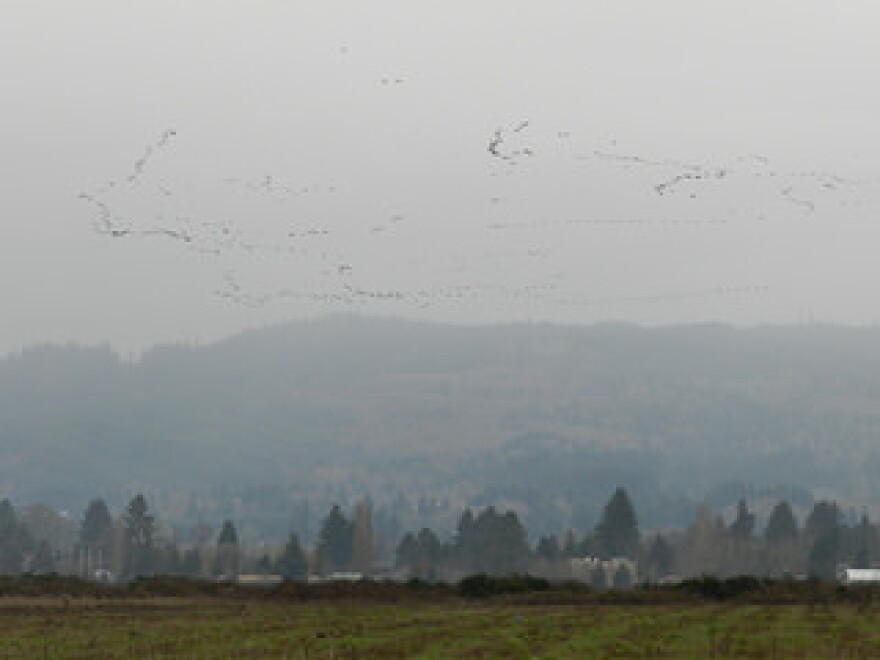 Brandon Reishus is the Migratory Game Bird Coordinator at the Oregon Department of Fish and Wildlife. The first layer of complexity is jurisdiction. Because most geese migrate across international borders, their management is governed by treaty. That means states have very little say in setting population goals.
Then there's the sheer number of geese subspecies. Seven varieties of Canada geese can be found in the Northwest each winter. And three – cackling, dusky, and Aleutian - are protected by three different sets of federal rules.
Brandon Reishus: "If you want to stop a decline in one, but you still desire a hunting season to curb the growth in another, it becomes really difficult. Because to most people, a Canada goose is still a Canada goose."
The treaty only allows for 107 hunting days each winter, limiting one of the only ways farmers have to keep geese out of their fields. When hunting isn't allowed Joe and Marie Gadotti instead shoot firecracker shells into the air to scare the geese.
And that's not all: strings of flags like the ones used by car dealerships, cutouts of coyotes and eagles, or…
Joe Gadotti: "We had Farmer Fred."
Marie Gadotti: "Farmer Fred was a seven foot tall cut-out, plywood of a person with a raincoat on."
The Gadottis have stopped planting most of their land in the fall, instead focusing their efforts in spring, when the geese start moving out. Overall the couple estimates the birds cost them about 60-thousand dollars each year.
Changes could be on the way though. This fall, federal counts of cackling geese put the three-year average population at above 250-thousand for the first time in thirty years. Again Oregon wildlife manager Reishus:
Brandon Reishus: "It's probably time to look at that management plan and go forward looking at it from, ok, we've got a somewhat stable population that's causing significant headaches down here.
Managers will look at whether the number of cackling geese should be lowered as Northwest farmers want. This would mean hunters could bag more geese in the short term, but there would be less game available in the long run after the population has diminished. It would also mean Native Alaskans that rely on geese for subsistence would see their food source reduced.
Marie Gadotti says changing the numbers of cacklers could work, if they they were the only geese that landed on their property.
Marie Gadotti: "To know how many geese are here, you count 'em all. You don't separate the species out and say we only have 250 of this and we only have 250 of that."
With the duskies, Aleutians and all the others flying around Oregon and Washington, there would still probably be too many geese for farmers like the Gadottis.
Copyright 2015 Earthfix