Springfield Birth Center Closure Forces Moms-To-Be To Make New Birth Plans
At the end of this month, PeaceHealth will close its free-standing Nurse Midwifery Birth Center in Springfield. Despite public outcry, hospital administration has shown no sign of changing the decision they announced on May 7th.
As KLCC's Tiffany Eckert reports, some expectant mothers are now having to make new birth plans and decide where and with whom they will deliver their babies.
"Hi my name is Marisa and I'm a patient of the Birth Center."
29 year old Marisa Ramirez sits on a park bench watching her two sons scramble up a play structure. Both were delivered by midwives, one at the Springfield Birth Center. Rameriz says the "high touch, low intervention" model of care empowered her.
"Just being able to go through it naturally and realize the power that my body had," Ramirez says. "And to have had that back up from my midwife, from my family. It was magnificent."
Ramirez is pregnant again--7½ months along. She says she could hardly contain her excitement about returning to the Birth Center in Springfield.
"The day after I found out I was pregnant, I think I was two weeks along, I called them," Ramirez says, "and they were like 'hold your horses, (laugh) ya gotta wait a few weeks.'"
Early last spring, Ramirez did begin her pre-natal care at the Birth Center. In May, she was told about PeaceHealth's plan to cease midwifery services within the hospital system at the end of August. Ramirez is due October 11. She describes how the news made her feel.
"Devastated. I cried for weeks when I found out," says Ramirez. "Any time I saw anything relating to the Birth Center. Oh, my gosh. It's just been such a difficult thing to really stomach."
Reporter: "What are you going to do Marisa?"
"I honestly am not sure. I'm so stubborn," says Ramirez. "It's just in my blood to be stubborn and especially with something as important as this."
Her sons scamper over with their Nana.
Terri Wright is Marisa's mom and she is downright angry about what is happening to her daughter mid-pregnancy.
"I think it was very callous of PeaceHealth to say, 'eh, we're gonna shut down in August and we don't care who it's going to inconvenience," Wright says. "We don't care that the moms that are counting on you to deliver their babies—have to go somewhere else. They just didn't care."
Wright reaches over and touches her daughter's face. Marisa's auburn hair reflects the late afternoon sun.
"I guess I'm just gonna have to find someone," she says.
Ramirez continues her pre-natal appointments with nurse midwives at the Birth Center, but the future still seems unclear to her.
(sniff) "It doesn't seem like anyone really has known exactly what's going on."
(sound of Rally, chants and cars honking)
On June 7, advocates and clients, including scores of children, marched the perimeter of RiverBend in support of the Nurse Midwifery Birth Center. Inside the hospital, PeaceHealth Oregon's spokesperson Marcy Marshall sat down to answer some questions. She told me the decision to close the Birth Center was made by a team of leadership.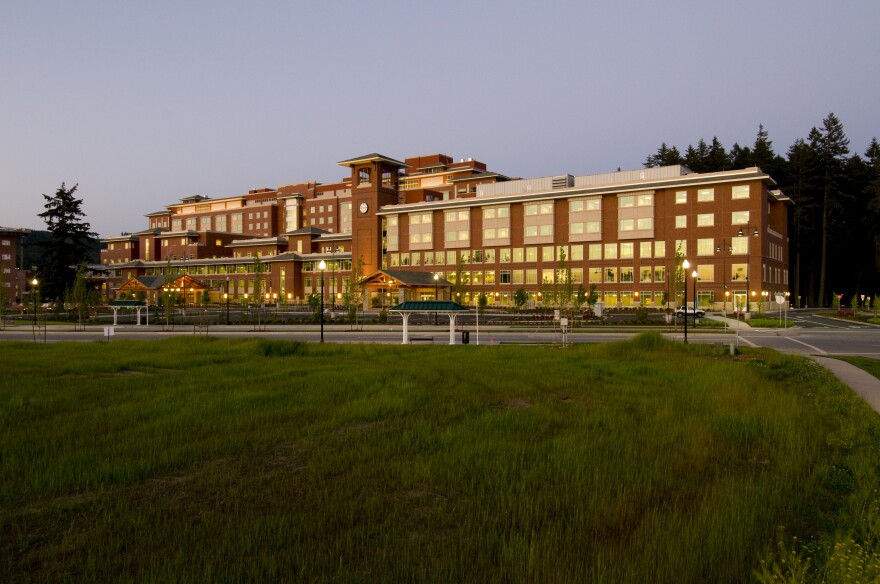 "Looking at trends not only within the Birth Center itself but also nationally and within Oregon, when it comes to birthing," says Marshall. "And through careful assessment it was made that it was not sustainable from a safety and quality perspective, to keep the birthing at the Birth Center."
Marshall did not elaborate on specific safety issues. But the Birth Center is nationally accredited and internationally recognized. And it's just minutes away from hospital.
A recent study by the Centers for Medicare/Medicaid Innovation finds free-standing birth centers with certified nurse midwives are more cost effective and have lower caesarian section rates than hospitals.
The cost of a standard nurse midwife assisted delivery at the Birth Center averages $7,500. A comparable delivery in-hospital at RiverBend is estimated to cost close to $18,000.
"There is a sense that profit drives. And that money matters, a lot," KLCC tells Marshall. "What can you say to assuage people's concerns when they call you Sacred Wallet?"
"We are a non-profit organization which means we don't earn profits," Marshall says. "Everything is re-invested back into the organization. So our accountability is to the community."
Critics say PeaceHealth should at least allow all current patients of the Birth Center to deliver before they terminate the nurse midwives and close.
Marshall says the hospital's position is unwavering.
"We're not changing our mind," Marshall states. "We are moving forward. You know, the decision has been made."
Back at the park, Marisa Ramirez says until this day she had not let herself believe the Birth Center would close, let alone before she is ready to give birth to her last baby—a girl.
Her mom says the decision is heartless.
"When it's a hospital you're talking about—when it's PeaceHealth? That name doesn't even fit anymore," White says. "Sacred Heart? Gimme' a break."