ENJOY KLCC STORIES AND & "FAIR SHARES" FROM THE 2017 OREGON COUNTRY FAIR!FAIR SHARES -- Fair goers sharing their most memorable OCF moments together:Peter Eberhardt & Stuart Allan - Map MakersDean Middleton & Wally Bowen - KOCFJordan Sun and Samuel Mendoza - First time here togetherPete LaVelle and Mose Tusik Mosley - After hoursAnna Epperson & Callie Barrios - Aunt and NieceJeannine Florance & Jana Zvibleman - Bruce Marbin's "heart event" at the Fair with WhitebirdReince Siefor & Terry Kilby - Fair ExperienceVeronique Loggins & Tim Hooton - Old Timer & Fair VirginHeather Duncan & John Glassburner - Tarps & Corn on the CobLisl Vigil & Phil Vigil - Fair MemoriesLisl Vigil & Sarita Moen-Glassburner - Sisters growing up at the FairLeah Chisholm & Jared Abbott - Former Berkeley students, Jared's life is altered by Leah's spontaneous invitation to the Fair______________________________________________KLCC's 2017 BROADCAST SCHEDULE & SPONSORS______________________________________________STORIES FROM KLCC REPORTERS:
'Holding Space Instead Of Hands:' Oregon Country Fair Goes Virtual During Pandemic
When mass gatherings were prohibited due to the coronavirus pandemic, most summer festivals in Oregon called it a wrap. That would have been the case for the 51st Oregon Country Fair, until some tech savvy volunteers came up with a safe alternative: Virtual Fair.
"My name is Alesha Adamson, I'm known as Salt. That's what people call me."
Salt is a long-time volunteer with the external security crew at Fair. In early May, right around the time they would start gearing up for the massive outdoor event, they realized Oregon County Fair would be cancelled.
"This is a big deal," she said. "Some of us have been doing Fair our whole lives and we have strong emotional attachments to each other."
Salt and other volunteers started brainstorming ways to be able to still re-connect—virtually. Turns out her crew includes a few techies.
"The idea that we could create something, anything that would bring us all together, that wasn't a Zoom meeting, was compelling," she said.
One crewmember has been working on a virtual version of the entire planet so he has detailed maps of the fairgrounds in Veneta. Salt took on project management. Some graphic designers joined. And they started building. Pretty soon, Salt thought, "If we can pull this off—why can't we do this for Fair?"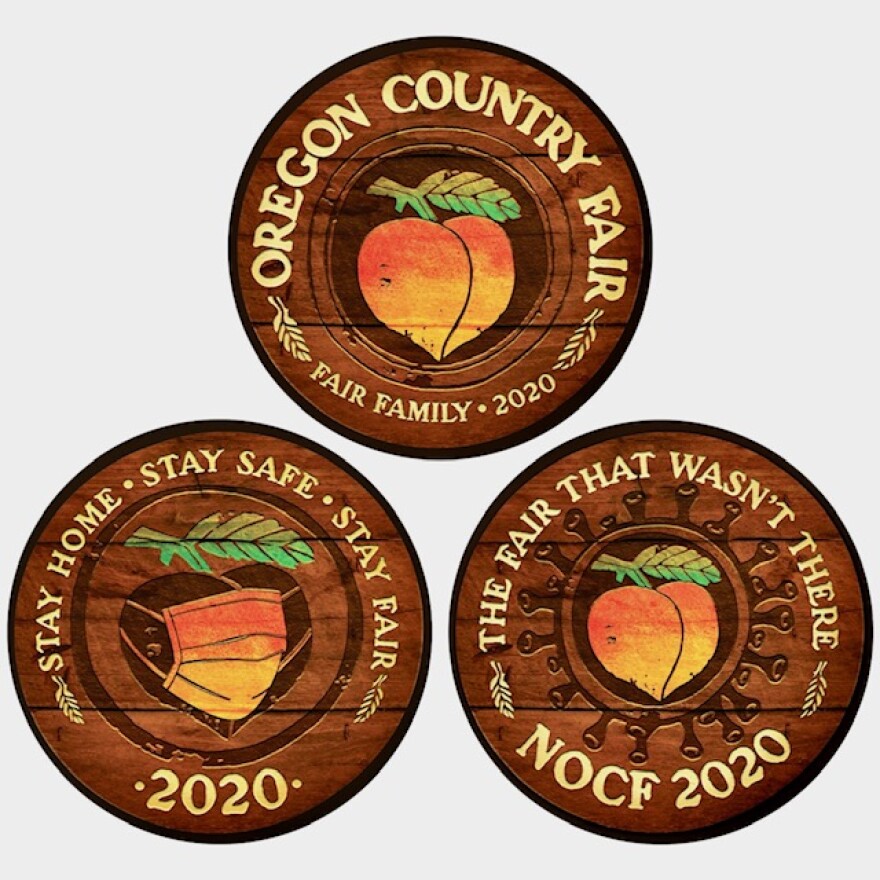 They could and they did. Inside the fairgrounds in Veneta, the winding path is shaped like a figure 8. The builders of Virtual Fair needed a crew name so "of course, it had to be called the M8trix. Right?"
What's in a name? At OCF, a lot. Whimsy, irony, puns. The 3-D experience is called "Fair in the Clouds." Salt says that name taps into the ephemeral nature of the event. And, they use cloud services and servers to create the virtual site. You know, "techie stuff."
A Virtual Fair visit begins from the landing located at https://www.oregoncountryfair.org, the Oregon Country Fair's website. For the 3-D experience, you'll need a digital personification.
"When you first get through the Peach Portal, you will be asked to select an avatar," Salt said. "And there's the default little robot avatar. But the other thing you can do is go make a custom avatar out of a selfie of you."
Then, you're Fair ready!
"The entry point, Peach Gate, is where you start and we surrounded it by a skybox of clouds," Salt said. "And then, once you get into the Fair, you're surrounded by a skybox of forest."
"Welcome to the 51st Oregon Country Fair!!!"
And just like that, you're in Dragon Plaza.
"And you will see the Dragon," Salt points out. "Then you can, if you want to head to your right you could go into Xavanadu. We actually have a replica of the Dance Pavilion. Um, Let's see, from Xavanadu you could head over to Jill's Crossing and see the bridges. And, um let's see, oh you're gonna go back to Chela Mela. There's a bunch of cool booths in there."
Ok, so maybe you aren't feeling your inner avatar just yet? There are multiple ways to experience Fair virtually. Including the Web Map. Rosana Costello is with Fair Cartography Crew.
"It's like you're hovering, flying over the Country Fair site and all you do is pan and zoom," said Costello, "and in doing so different features pop up. And this map is very interactive."
You can click on food booths and artisan booths and stages like Blue Moon or Main. There are photos and videos embedded throughout the Web Map. Costello says it's a lot like using Map Quest—so not much technical skill needed.
"All it requires is an internet connection and either your iPhone or a computer laptop," she said.
Costello has been a Fair volunteer for 25 years. She said she built the maps to help maintain connections.
"To connect visitors with artisans, with the performers," Costello said. "It's a way to bring that community together again."
Crystalyn Frank appreciates this. She attended her first Fair while still in utero and grew up hanging out in Community Village where her dad runs the info booth.
"It's called being a 'Fair Baby,' Yea," she laughs.
Today, Frank is Fair Operations Manager. Normally, during the event she's roving the site, problem solving and fixing stuff. But this year is far from normal. She admits there was some skepticism about pulling off a Virtual Fair. But…
"Just like the normal Country Fair. Everybody is working together to put this huge endeavor on and it does kinda feel like Fair Magic," said Frank.
The traditional Oregon County Fair is a major revenue generator for the organization and the Fern Ridge community. With no budget this year, the entire virtual event has been volunteer driven. For Frank, it was important to provide a virtual venue for Eugene Saturday Market and OCF juried artisans to sell their handmade wares.
"We're really hoping that people will shop with these incredible artists," Frank said, "that normally are able to make a significant part of their livelihood at our event."
There is a message on the OCF website that reads: "While we want to hold hands, we will instead hold space—for hope, for each other and for this community-- that under the bleakest of circumstances there is beauty and light that shine through."
During this weekend's 3-day free-streaming festival, from the safety of home, virtual fairgoers may just find something real to celebrate.
Copyright 2020, KLCC
Check out KLCC's Retrospective of OCF over the many years:
https://www.klcc.org/post/klcc-celebrates-oregon-country-fair
See and support OCF and Eugene Saturday Market Artisans:
https://www.oregoncountryfair.org/type/artisans/
Community Village is way involved in Virtual Fair: