KLCC Special Documentary: The Thurston High School Shooting - 20 Years Later
On this day 20 years ago, one of the earliest modern-day school shootings erupted in the rural, working-class community of Springfield, Oregon.
At Thurston High School, freshman Kipland Kinkel opened fire on his classmates, inside a crowded cafeteria. The incident preceded the more infamous Columbine shooting by nearly a year.
I'm KLCC reporter Brian Bull, and you're listening to "The Thurston High School Shooting: 20 Years Later", a special documentary. In the next half hour, we'll revisit the tragic events of May 21st, 1998….which left four people dead, two dozen wounded, and the community shocked and reeling in the aftermath. We'll talk with survivors, as well as a former inmate who grew up with Kip Kinkel behind bars.
We'll also hear about Kinkel's efforts to have his 112-year sentence reduced, as well as what effects the Thurston shooting has had on those who witnessed it.
Outside the main campus of Thurston High School, stands a brick and tile wall, along with benches, plaque, and trees. The Thurston Memorial features 25 white tiles symbolizing students wounded on May 21st, 1998. Two black ones represent students Mikael Nickolauson and Ben Walker, who died that day.
35-year-old Tony McCown watches students mill on and off the campus, much like he did when he went here.
"I've probably been out here for a half dozen times or so for different events, and maybe a half dozen other times for just my own thoughts and memories."
McCown was gunman Kip Kinkel's best friend. He says the fifteen-year-old struggled with mental health issues, and had run-ins with authority, but didn't stand out from any other kids at school.
"Still to this day, you can pick out 150 students on this campus that look like, talk like, act like, and present themselves like he did," says McCown. "In a way, that's the scariest part."
McCown wrestles though, with not foreseeing the violence that came to his school May 21st, 1998. The day before, Springfield Police came to campus after a tip led to a search of Kip's locker. A .32 caliber gun was found, which he'd bought from another classmate.
"Maybe there'd be another trigger, but I honestly believe had he not been caught with a gun that day, that we would not have had May 21st. Was he a ticking time bomb? Possibly, it's just so hard to say."
Don Stone was Thurston High's Vice Principal and football coach at the time. He recalls Kinkel's response, before being led away by police.
"I can remember him looking up at me, his eyes were…I just couldn't see anything in his eyes," says Stone. "But nonetheless, he said, "Coach, what's going to happen?" And I said, "Well Kip, we don't have any tolerance for guns on campus. I'm not sure you're going to be with us anymore."
Stone says he was certain that'd be the last he'd see of Kinkel. But he was wrong. Kinkel came back the next morning, heavily armed.
Montage01: "KLCC's Northwest Passage, I'm Tripp Sommer. At least three people dead and twenty-four injured, after shootings today in Springfield…" (FADE UNDER, HOLD)
20 years ago, most phones were still landlines. The nation's schools were open campuses. Social media was unheard of. And "school shooter" had yet to become a familiar term.
[RESUME BRIEF POST OF NEWS REPORT HERE: "….the suspect is a 15-year-old freshman…]
Jolene Leu was a junior at Thurston. She recalls hanging out with friends in the cafeteria that morning. There were kids outside campaigning for student elections, and a senior honor breakfast across the hall.
"So there was a lot of activity going on anyway," says Leu. "But it...it switched when we heard the popping. And not growing up around guns, I had no idea what the noise was."
Another junior, Betina Lynn, figured some of the student campaigners had actually brought fireworks into the building.
"And I felt something impact me from behind, in my back. No idea what it was," recalls Lynn. "Possibly it was a firework. But it was a really powerful impact. At this point I was very, very angry, 'Like…who's pulling a stupid prank that's putting us all in danger?' I turned around, and the moment the second bullet hit my foot, I noticed the gun."
Kip Kinkel had arrived with a .22 caliber rifle, two pistols, a knife, and more than 1000 rounds of ammunition. Clad in a trench coat, he walked through the cafeteria letting bullets fly.
Jolene Leu recalls after her boyfriend was hit, turning towards Kinkel and seeing his expression.
"Anger. Just plain anger. I wouldn't say that he targeted my table. But my table of friends was the one that was hit the most."
By this point, Betina Lynn was struggling to hide under a table, as Kinkel advanced on the panicked mass of students.
"I watched as my friends got shot," says Lynn. "I watched the six or seven kids tackle and dogpile on top of Kip. I heard books hitting the floor, I heard screams, I heard hysteria, I heard people running for the exits."
One person pushing against the tide was Don Stone. He'd been across the hall, cleaning up after the senior breakfast when he heard the gunfire. He came into the cafeteria and found one of his players, shot in the leg.
"And he was spurting blood. I grabbed his hand and slapped it down on his leg and said, "Keep pressure on that."
Stone raced over to the back door, and opened it slowly. He saw two students in the breezeway. One was slumped down.
"I could see he had taken a wound to the face. He was still very conscious. I pushed him up against the wall. And immediately heard one of my other football players saying, 'Hey Coach, I need your help!" He was trying to do CPR on a young man by the name of Ben Walker."
16-year-old Ben Walker would die within 24 hours. Another classmate, 17-year-old Mikael Nickolauson was shot in the head point blank, and died on the scene.
Another junior, Tony Case, was on the floor. He'd been hit four times. Case recalls a paralyzing numbness and weakness.
"And I was trying to pull myself up to sit on the bench of the table, and there was a girl next to me, like watching me struggling to try and get up on this bench and she's like, "Uhh, maybe you should just stay there on the ground," I was like, "Yeeaahh, okay, I guess that's a good idea."
A few blocks away, Springfield patrol officer Russ Boring was at a gas station. He got a call of a shooting at Thurston High.
"When that call first came in, you think, "Well, maybe this is a hoax," or something like that," Boring tells KLCC. "But then as we were driving to it and we're getting more details we realized, "No, this was really happening."
When Patrolman Boring arrived at the school, two other officers – Donny Myers and Dan Bishop – were already trying to help victims and look for any other shooters. Within the span of five minutes, Kip Kinkel had fatally wounded two students and injured two dozen more.
"It's chaotic. People are running around and people are in a state of shock," Boring remembers.
"And Officer Bishop had Kip Kinkel on the ground. And we had fire personnel that were already on the scene. They helped them triage some victims out in the hallway that were severely wounded."
[FADE IN 'LIEBESTOD' MUSIC ]
With Kinkel in custody, police went to check on his parents. Detectives entering the isolated, sylvan home were met with a surreal and grisly scene. The bodies of Bill and Faith Kinkel were found in separate rooms as music – Wagner's Liebestod -- which literally means "love death" -- looped full blast on a CD player.
[HOLD MUSIC HERE FOR A FEW BEATS, THEN FADE UNDER NEXT TRAK]
It's believed Kip Kinkel was ashamed of his pending expulsion, especially as his parents were both accomplished and respected educators in town. In an interview conducted by Detective Al Warthen, Kip talked of feeling he had no other option, as well as having voices inside his head.
Kinkel: I didn't want to, I loved my dad, that's why…
Warthen: You love him so that's why you had to kill him?
Kinkel: Yes…
There had been talk among classmates that Kip's relationship with his father was strained at times. After his removal from school on May 20th, it's speculated that the elder Kinkel was looking into military school or a similar program for his son. Once home, Kip retrieved a .22 caliber rifle he'd stashed away, shot his father in the back of the head, then dragged the body into a bathroom.
Warthen: Why did you cover him with a sheet?
Kinkel: (crying) It just felt like the right thing to do."
Warthen: Okay, you did it out of respect for him?
Kinkel: Yes.
Warthen: When did you decide in your mind that you had to kill your mom, before you shot your dad?
Kinkel: Afterwards.
Warthen: Afterwards.
Kinkel: My dad kept saying how my mom…how embarrassed she was going to be and how horrible I was, and I couldn't let my mom feel like that. I couldn't do anything else. There's no other way.
Faith Kinkel arrived later, with groceries. After Kip helped her, he told her he loved her. Than shot her several times. She was found in the basement by authorities.
As for the two dozen students wounded in the attack at Thurston, they'd been rushed to two local hospitals. Tony Case – with three bullets in his back and one in his leg – ended up at Sacred Heart Hospital.
"And the surgeon…he definitely worked miracles with what he had to work with," says Case. "I mean, I came in and was essentially gone at that point. And he revived me and not only saved my life, but got me back to where I am still able to do everything I want to do."
For many survivors, it would be months – even years -- before they recuperated from their physical wounds. Emotionally, many still contend with nightmares, flashbacks, and PTSD. Jolene Leu says she struggled with emerging from the attack unscathed.
"It's a hard situation when a lot of your close friends have been injured in a shooting," says Leu. "And they have the scars or the pains from their injuries. It kind of creates a distance between those who just witnessed it and those who've actually gone through it. So I felt like because I wasn't shot, that I didn't deserve the title of 'survivor'."
In the days to come, satellite trucks and reporters from across the globe descended upon Springfield. Amidst the media blitz, mourners appeared and began leaving notes, flowers, photos, and stuffed animals on one of Thurston High's fences. Then Vice-Principal Don Stone, remembers.
"People letting us know that they supported us," says Stone. "That was a great reminder for the kids when they returned to school the next week. A lot of consciousness, raised by not only the community of Springfield, but the state of Oregon.
"We received all kinds of things by almost every school in the state. It was very heartwarming to see that."
The incident touched those beyond Oregon, too. President Bill Clinton spoke of the tragedy in his Memorial Day address that year.
"And my thoughts and prayers are with the victims and their families. Like all Americans, I am struggling to make sense of the senseless. And understand what could drive a teenager to commit this terrible act.
"And like all Americans, I am profoundly troubled by the startling similarity of this crime, to the other tragic incidents that have stunned America, in less than a year's time. In Paducah, Kentucky; Jonesboro, Arkansas, Pearl, Mississippi, and Edinboro, Pennsylvania."
Weeks later, President Clinton visited Thurston High School.
"He said some amazing things to the kids," says Don Stone. "He met with the victims and their parents.
"I can remember saying to him, 'It's amazing that you're here." And he said, "I'm not amazing, your kids are."
The President and his staff wore blue ribbons, as part of a "promise" campaign to quote, "Let it end here". But as the coming decades would reveal, the bloody shooting at Thurston High was just the beginning of a long chain of gun violence in America's schools…including one that would be even more notorious the following year in Colorado. At a high school called Columbine.
[TRANSITIONAL MUSIC BED HERE FOR :30)
You're listening to "The Thurston High School Shooting: 20 Years Later", here on KLCC. I'm Brian Bull.
In 1999, Kip Kinkel was sentenced on four counts of first-degree murder and 26 counts of attempted murder. For many victims' families and survivors, Kinkel's 112-year sentence without parole brought some relief. But the echoes of Kinkel's attack still resonate to this day.
"I am still defensive about school shootings and I'm still affected when I hear about one."
For Jolene Leu, the shooting – or rather its ripple effects – changed her career path. She recalls the deluge of media on the small community of Springfield, especially the long row of satellite vans lining the street outside Thurston High.
"Reporters will literally walk up to you, camera-in-face and everything, and start talking to you rather than asking if you want to be talked to.
"Then I – about a year later – was set up by my boyfriend's mom to help another out-of-town reporter cover the trial. He wanted me to cold call survivors, and introduce him before handing him the phone. Rather than asking them if they wanted to be interviewed.
"And I was not okay with that."
Those experiences made Leu change her mind about becoming a journalist. Now a mother of three still living in the area, Leu finds a therapeutic joy in her photography….a business she started five years ago.
"I do weddings and my favorite part of weddings are always the toasts, because they're always the most emotional or the most funny. And you get the best natural reactions during the toast."
In trying to move on, Leu has done her best to gird herself whenever she and her kids go to see fireworks or concerts, or any crowded place where loud popping noises can erupt at any given time. She says her first real scare was when doctors informed her that her first child's due date was May 21st….five years to the day of the Thurston School shooting. She was relieved when the baby arrived on May 23rd, instead.
"In hindsight, it might've brought a little more joy and peace to the day, rather than remembering the day so tragically every year."
(NEWS REPORTS – MONTAGE)
The bloody legacy of Thurston has continued…in school shootings that include Columbine, Sandy Hook, and more recently, Parkland, Florida. The March for Our Lives movement – which surged nationally in the weeks following – inspires Thurston survivor, Betina Lynn. She spoke at the Eugene rally in March.
"I ask all of you here today to commit to this fight, to speak up, to put pressure on other members of our community, to run for office, to not back down in the face of opposition!" (CHEERS, FADE UNDER)
Lynn works as the Executive Senate Coordinator at the University of Oregon. She was shot in the lower back by Kip Kinkel, with another bullet striking her foot. Nerve damage from that wound still affects her physically, and she suffers from PTSD. Thankfully, she finds joy and comfort in a four-legged friend.
(LAUGHS) "My beautiful little varmint Bacardi, who is part beagle, part corgi. And serves as both pet and sort of companion animal, sort of an emotional support animal."
Lynn says that emotional support was lacking when she returned to Thurston High after the shooting.
"I would walk down hallways…and everywhere I was walking, I would consistently have lots of people staring at me," she says. "Not a lot of chatter or whispering, but people just staring at me and waiting for me to pass. It was very bizarre and very uncomfortable, like I was no longer part of my high school."
Betina recalls when her history class showed a video on the Vietnam War. She was prepared to hear gunfire and see violent content. What she didn't anticipate was hearing popping sounds outside the building during the viewing.
"My teacher stopped the video, looked at me, and said, 'I hope that's not what I think it is.' And I left that class scared and triggered, and didn't really know what to do with myself. I found a hallway, and cried for a while.
"And then I eventually found my way to the principal's office, because I wanted to talk to somebody. The principal tried to convince me it was a car backfire, and was very dismissive of my experience. That was it."
Lynn transferred to another school her senior year, and graduated. She has since joined an online group of mass shooting survivors that's helped her find a sense of support and acceptance. And she's even inspired a new generation of activists, back at Thurston….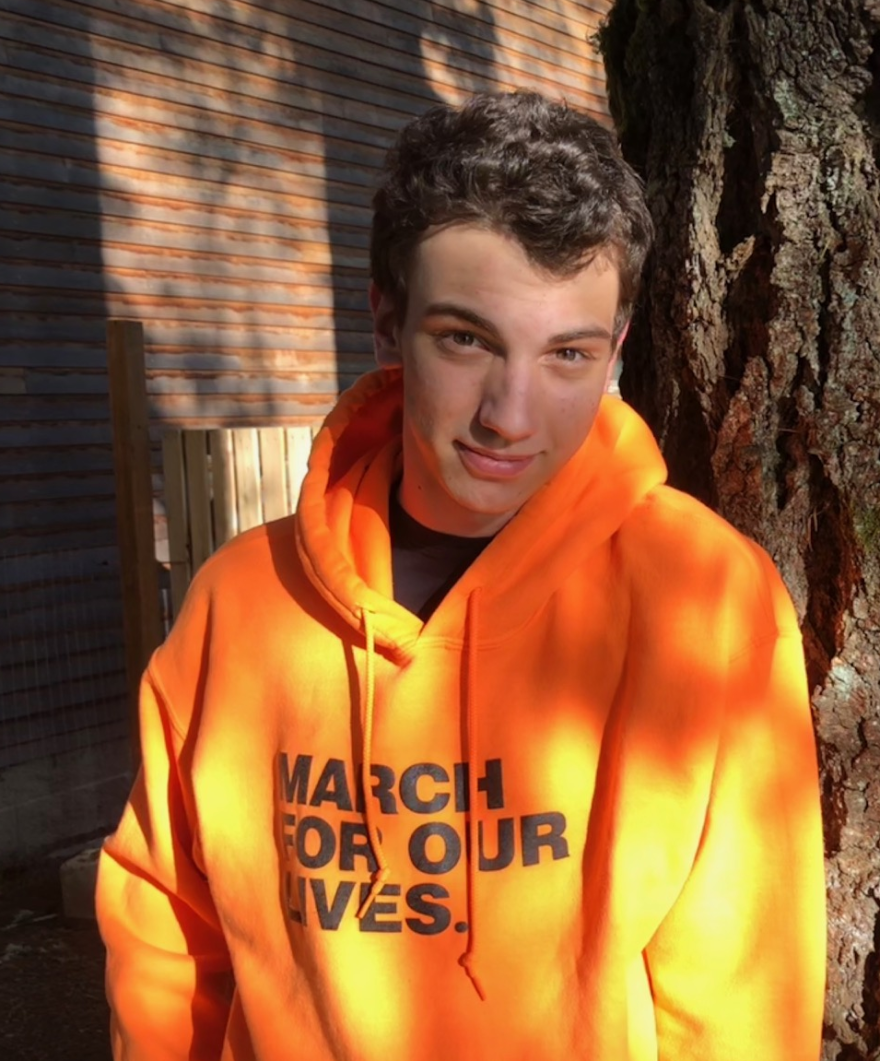 "20 years down the line, we're still deluding ourselves. Today that changes. Today we demand sensible gun control…" says Thurston High School junior Rio Samaniego in a speech recorded during a March 14th walkout by a classmate.
Samaniego says Betina Lynn's story touches on vital issues including gun control, school security, and mental health. Yet he says the school and Springfield community seem ambivalent about the tragic events of May 21st, 1998.
"The way that they've chosen to remember those people doesn't necessarily inspire us," he says. "It's not something that tells us these people had lives. We just see two tiles on the memorial outside. That's pretty much it.
"That's why I'm interested in hosting a vigil actually, on the anniversary of the shooting to make sure that people do remember the people who had lives there, who were changed. We don't talk about it nearly as much as we should."
Some survivors say they'll go to Thurston High on the 20th anniversary to remember those who died or were wounded. A few say they'll hold more private ceremonies, including one critically-wounded survivor who came off the operating table, rose to his feet, and literally reached for the stars.
[AMBI OF DSCOVRY PROBE LAUNCH]
"4..3…2….1…0…and lift off!"
"I'm currently at the Harvard Smithsonian Center for Astrophysics. We build scientific instruments for spacecraft."
20 years ago, Tony Case was rushed to Sacred Heart Hospital with three bullets in his back and one in his leg. His intestines, lungs, and appendix were hit, and he'd lost a lot of blood. At one point, the doctors weighed amputating his leg.
"Thankfully, my surgeon was on the side of "Let's not amputate, and see how it goes." So, he left the leg on, and I can still run, I can still bike, I can still ski, and I can do all of those things with very little impediment at this point. I walk with a little bit of a limp, but, most of the time it's not even noticable."
Case lives in Massachusetts now, where he continues to develop technology for space exploration. He's witnessed many of his projects launch from Cape Canaveral. He's currently a team member on the Parker Solar Probe, which launches in July.sun later this summer.
"We are building an instrument, much like other instruments that make measurements near Earth, but we're building it out of new materials that are able to get extremely hot, and we're flying very close to the sun's surface in order to measure particles in a new environment."
Case says he doesn't dwell much on the Thurston shooting, or the motivations of Kip Kinkel on that day. But he does mark the occasion with those who helped him survive.
"I've actually become really good friends with the surgeon and anaesthesiologist that worked on me," Case tells KLCC. "And every May 21st we at least send around an email between my parents, me, my doctors, all of us just sort of saying "thank you" to the doctors mostly, for giving me a second chance at life."
And while Kip Kinkel's parents were among the first victims, their memory – and names – survive in a way friends think they would've appreciated. Every year since the shooting, the Bill and Faith Kinkel Scholarship is awarded to four qualified students who study foreign languages. Gladys Campbell and Rae LaMarche are former Spanish teachers who are involved with the scholarship.
"I would read a short description of the formation of that scholarship in honor of these Spanish teachers that died in a horrific event," says Campbell.
"It does allow us to remember two good friends, good friends of students," adds LaMarche. "They were beautiful people, they were great people."
"You know if you saw them, you were like, immediate friends," continues Campbell. "They were just kind and open."
Nearly 70 scholarships have been awarded to date, totaling roughly $35,000. But Campbell adds the scholarship's funds are dwindling. Many teachers who used to contribute through payroll deductions have retired. Springfield educators hope to keep the scholarship alive, to further the mission – and memory – of Bill and Faith Kinkel.
[TRANSITIONAL MUSIC HERE FOR :30 SECONDS]
You're listening to "The Thurston High School Shooting: 20 Years Later," here on KLCC. I'm Brian Bull.
To this day, many people wonder about Kip Kinkel...his activities today, as well as why he attacked his school two decades ago. Some note his parents let him go off Prozac in the months before the incident. Others say Kinkel contended with bullying and anger issues. Betina Lynn was a teaching assistant in Kinkel's Spanish class.
"There were a lot of people who very often went out of their way to make him feel like an outsider, to ostracize him, to tease him, to laugh at him, to make his life really hard and uncomfortable."
Kip's history included counseling sessions, experimenting with guns and explosives, and being grounded for pranks. He seemed intrigued by recent school shootings in Arkansas and Pennsylvania.
Once in custody, Kinkel was interviewed by a Springfield Police detective about the attack against his classmates, and the murder of his parents. The boy referred to voices, and his head not being "right".
Warthen: "So you told me that your mom gets out of the Explorer and starts up the stairs from the garage or basement, right?"
Kinkel: Yes.
Warthen: "Do you say anything to her?
Kinkel: Yes, I told her I loved her.
Warthen: "And then you shot –"
Kinkel: Yes. God damn these voices inside my head!
Warthen: "Alright, hey…Kip, settle down…"
Those voices were expected to play heavily into Kinkel's defense during the trial. But he dropped his claim of insanity, pleading guilty to 26 counts of attempted murder and four counts of first-degree murder.
"Kip was certainly one of my best friends," says Thurston alum Tony McCown. He acknowledges some people saw Kinkel as a schizophrenic youth influenced by shock rock, gun culture, and bullying. Yet McCown says the friend he knew didn't particularly stand out as a troubled soul.
He says he visited and wrote Kip frequently after he was sent to the MacLaren Youth Correctional Facility in Woodburn. Kinkel was transferred to the Oregon State Correctional Institution in 2007. McCown says he's only visited his friend recently. But Kip has kept busy.
"Since he's been in prison, he's finished a Bachelor's Degree. He's received his electrical license, and he's become the prison's electrician. He teaches yoga in the mental health ward of the prison. He's got an odd, centered peace to him."
Kinkel himself has not granted any media interviews. His sentencing remains under appeal and was recently upheld by the Oregon Supreme Court.
However, a former inmate – who also served time for a violent offense committed while a youth – spent nearly six years with Kinkel at the state prison in Salem. To protect his identity, we've electronically altered his voice. We'll also call him "David". He tells KLCC that he was struck by Kip Kinkel's transition to a fairly dangerous place.
"A lot of the times, other individuals, especially with high profile cases, gang members and the rest will attack you pretty quickly," explains David.
"They'll see it as an opportunity to score points in their gangs. So within the first month or so that he was there, he was attacked. Some man came behind him and struck him, hit him one or two times. It was unfortunate, it was on the yard, and that's usually where those attacks happen.
"And he handled himself well, he didn't strike back. Which is really the rule of the prison, you let the guards handle that."
David confirms that Kinkel is now an electrician at the facility. He's also worked in the prison library and when he's not exercising, is a voracious reader.
"One of the first 'connect' books that we really read together was James Joyce's Ulysses," says David. He really enjoyed that. What's another great one? Crime and Punishment was a book we explored together.
"So he reads a lot of poetry, he reads a lot of lit, and he's reading it mostly not just to educate himself, but kind of understanding broader humanity."
Among Kinkel's recurring visitors are ministers, suggesting he's found religion. David puts it this way:
"You know, I don't know about "religion", I'd say "spirituality". And I think spirituality is part of a way to deal with sort of the moral challenges of having hurt so many people.
"Any sort of tragedy like this, there's no fixing it, there's no repairing it. And I think relying on meditation and prayer and thought towards the people who've have been harmed is really kind of his spiritual practice in big part."
Kinkel says very little about May 21st, 1998, according to his friends.
McCown says that even extends to his correspondence.
"I think he's presented it in a way that he doesn't want to hurt anybody, and he's cognizant that written words could hurt people. So he's very brief and concise in his letters.
"Whether it's education, or faith, or meditation, and yoga, he's taken a lot of steps to make sure he can function. I think that living with those demons made it really hard to function for years."
Just this month, the Oregon Supreme Court upheld Kinkel's sentence, affirming rulings from two other courts. Kinkel's defense is seizing upon several Supreme Court rulings in the last decade that they say can help reduce his sentence.
Portland attorney Andy Simrin says a 2012 case, Miller vs. Alabama, ruled that mandatory life sentences without parole are unconstitutional for crimes committed by juveniles.
Simrin says it's unlikely Kinkel will survive his time.
"He's got to live to be 127 years old which is longer than any human in recorded history has lived so far."
Simrin says there's a possibility Kinkel's case could reach the nation's highest court.
"We can file what's called a petition for a Writ of Certiorari. It's like an application to get the case directly into the U.S. Supreme Court. And if you've got a good federal issue that they haven't written on before, then there is some chance they may be interested."
Tony McCown says were his friend ever to be released ahead of his 112-years, there'd be hard questions.
"Do I personally think that if you let Kip out, that he'd be a risk? Probably not. Would society be a threat to him? Yeah, probably," says McCown.
"And then as a country, we have to consider what our incarcerated people can contribute anyway, and in a way I think Kip's demonstrated that you can. I think he's having an impact inside prison in a way that most people don't."
And David adds that for all his exchanges with Kinkel, he's never talked with him about seeing a world beyond prison walls. But he understands that should Kinkel be released, there'd be resentment and fear in any community he lives in.
"I think that's a reasonable…fear. As he'll readily admit, I mean the level of harm that's happened, is…it's impacted the community, it's impacted so many people, there's definitely resentment and desire not to see him released. And I think he recognizes that. Kip isn't dismissive of it, he understands the level of harm that he's caused."
Many victims and witnesses we talked to say Kip Kinkel is best left behind bars. But one says he's giving serious thought to visiting Kinkel, 20 years after he sprayed the cafeteria with bullets. Former Vice-Principal Don Stone, who had Kinkel removed from school for having a handgun in his locker….says it's been on his mind a lot lately.
"I…I'm struggling with this, but I would like to visit him in prison. And…and feel for myself if in fact, he is remorseful in terms of what happened that morning."
But first, says Stone, he'll meet up with a former student and survivor who's asked him to join her at the Thurston High School cafeteria next time he's back in Springfield. He says when they connect later this spring, they'll stand in the space where the tragic events of May 21st, 1998 unfolded…and share a moment of reflection, and hopefully, healing.
Brian Bull, KLCC News.
"The Thurston High School Shooting" was written and produced by KLCC reporter Brian Bull, with support from Alec Cowan and Deonna Anderson. News Director Rachael McDonald and Program Director Terry Gildea provided editorial oversight and guidance. KLCC's Director of Philanthropy Ronnel Curry helped connect several key sources to the project. KLCC Station Manager is John Stark. Special thanks to the Thurston High survivors and witnesses who shared their stories.
Copyright 2018, KLCC.