Portland Brewery Puts Low-Carbon Beer On Tap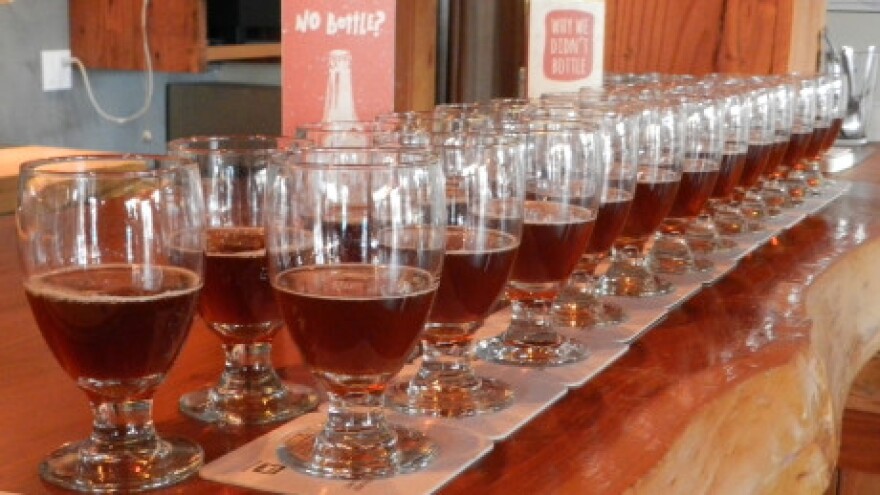 Some people ride a bike instead of driving a car to reduce their contributions to climate change. Others shrink their carbon footprint by installing solar panels on their rooftops. Now, a Portland brewery has another suggestion: Something sold by the pint.
It's opening night for a new beer at Migration Brewing in Portland.
"Can I get a couple tasters of the low-carbon beer?"
The new brew is called the Little Foot Red. That's because it has half the carbon footprint of the brewery's traditional red beer, the Blood, Sweat and Red. As it turns out, that traditional beer generates a fair amount of carbon emissions.
Hatfield: "For Migration's Blood Sweat and Red, drinking one pint of this beer is like driving a little over one mile in the average passenger vehicle."
That's Molly Hatfield. She did what's called a life cycle assessment of Migration's standard red beer -– tallying up all the carbon emissions generated over the course of the beer's lifetime. That includes growing the ingredients, shipping them to the brewery, brewing the beer, packaging it and distributing it to customers.
So she can tell you exactly how much carbon is emitted by making one keg of beer and where those emissions came from.
Hatfield: "A keg of beer in this case was around 124 pounds of carbon dioxide, which is like driving about 137 miles in the average passenger vehicle."
Once Hatfield calculated the carbon footprint of the standard red beer, she looked for ways to shrink it.
Branes: "I was just very surprised at how much emissions were created by one keg of beer.
That's Migration head brewer Mike Branes:
I of course knew there was an impact on the environment. I did not know to what extent."
About 80 percent of beer's carbon footprint came from the brewery's operations - mostly from energy use, Hatfield says.
Hatfield: "Simply because brewing involves a lot of heating water and cooling water and that's very electricity and natural gas intensive."
To reduce those impacts, the brewery upgraded to high efficiency water heaters and bought carbon offsets for its electricity use – not just for the Little Foot Red but for all their beers. Those offsets buy renewable energy to make up for the emissions from coal and gas-fired power plants.
15 percent of the beer's carbon footprint came from growing and transporting the barley that goes into the beer.
So Branes agreed to switch to a local organic barley. That cut down on the emissions from growing the barley and shipping it.
Branes: "We changed the recipe. In the finished product I do notice the difference."
The brewery also decided not to bottle the beer or distribute it beyond the brewery to eliminate those emissions entirely.
Lowering the carbon footprint of the beer did not lower the cost, according to Fletcher Beaudoin. He led the low-carbon beer project for the Oregon Environmental Council. He says the cost of making the beer wasn't as important as the message it's sending.
Beaudoin: "You know climate change and carbon emissions is a really hard topic to talk about sometimes. So we came together and talked about this idea of beer as being something that is very tangible. Something a lot of people engage with on a daily basis."
Beaudoin hopes getting people to be carbon conscious about the beer they drink will get them to start thinking about all the other emissions they generate through everyday activities.
Beaudoin: "Really the big thing for me is to walk away with a conversation about the topic of climate change and carbon emissions in Oregon … wanting to learn more and to do something."
Back at opening night, swarms of people are lining up to taste the low-carbon beer - and some say they can taste the difference.
"I can taste hints of carbon lite-ness, a little bit of hops in there."