The Ins And Outs Of Section 8 Housing Assistance In Lane County
Every two years, qualified applicants are chosen to receive housing subsidies under the federal Housing Choice Voucher Program. Most know it as Section 8. On November 12th the Wait List will re-open in Lane County. KLCC's Tiffany Eckert reports how dire straits in the rental market has prompted the public housing authority to "work outside of the box" to get more low-income individuals and families into permanent housing.
A woman walks into the cozy office of Valley Ridge Apartments in the Jefferson Westside neighborhood of Eugene. She wants to know what it would take to live here.
"What's your criteria?"
And property manager Adelle Medberry wants to help.
"So, I'm still taking applications. We have other vacancies coming open and we don't have a lot," Medberry tells her. "But what I tell people is I really like it if you continue to check in with me. Cause I get a lot of applications."
Medberry tells her there's a credit check and any major crimes will be looked at along with rental history and evictions.
"Ok," says the prospective tenant.
This apartment complex includes 104 units that range in size and cost.
"It's very challenging," Medberry tells KLCC. "I have a lot of people who move here, even maybe from another city and then they can't find housing. And then they're living at the Eugene Mission or they're living in their cars."
31 of her residents pay their rent with Section 8 vouchers. It bothers Medberry that a lot of other landlords have a fear of renting to people with housing assistance.
"Sadly in our society, there's pre-conceived notions of people who have received government help," Medberry laments. "But you know, you can get a person who has the best paying job in the world who might be the worst tenant you've ever had."
Medberry says most of her Section 8 tenants live within the tightest of margins.
"It's not what people think out there. It's not a free ride. Sometimes they're taking a good share of their income," she says. "We have people who get under $300 a month and they're still paying a good chunk of that income--for rent."
In Oregon, it is illegal for landlords to reject a prospective tenant just because they receive Section 8 or other housing subsidies. In February the Oregon legislature passed laws to prevent rent spikes and effectively control rent increases for existing tenants.
Adelle Medberry and about 700 other Lane County property owners and managers receive education and reassurance through the Landlord Liaison program, the only one of its kind in Oregon. It's offered through Lane County's public housing authority, Homes for Good. This is also where Section 8 housing vouchers are administered.
"Hi I'm Beth Ochs. I'm the Rent Assistance Division Director at Homes for Good."
Most of Och's work is helping families use housing vouchers once they qualify for them.
"The family needs to be low-income. That's the only thing they need to be."
The last time a Section 8 wait list opened in Lane County, it was 2017. Ochs says about 6,000 families applied for housing vouchers. After that wait list closed, 3,000 names were randomly selected and assigned a number. Then when your number is picked, you receive a housing voucher.
"It's money. It's money to help pay the rent at the unit that you select."
Ochs says the voucher dollar amount is based on the number of people living in the household. And what portion of monthly income can be applied toward rent.
"So those two things combined are gonna give you a maximum dollar amount to go search with."
"That search could be tough," says the reporter.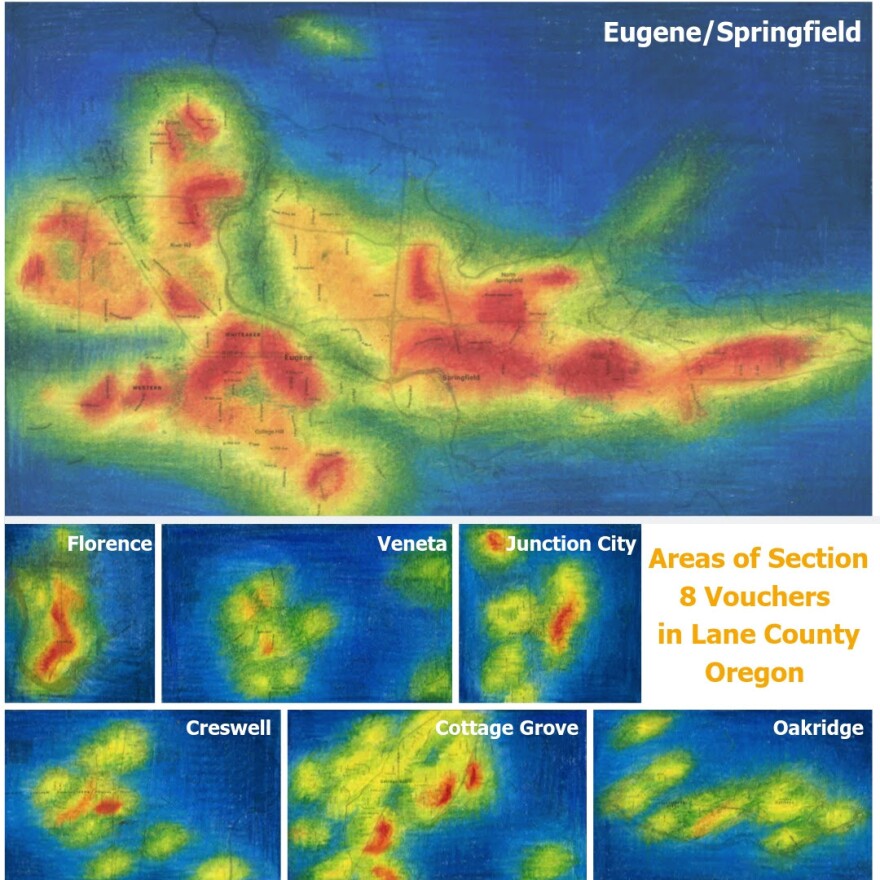 "The search can be tough," Ochs answers. "They only have 120 days to locate the housing. So there's a timeline. For approximately 25% of our families it turns into a situation in which they're not able to use the voucher."
Ochs says reasons range. Maybe rents are too high to afford even with a voucher or there are no vacancies at the time. She says sometimes people give up before the paperwork is completed.
When a prospective tenant cannot secure housing within 4 months, their voucher is passed on to the next person on the Section 8 wait list. And the search goes on.
As public housing agencies go, Ochs says Homes for Good works outside the box. For example, they flipped the rules on shared housing.
"Now you can use a Section 8 voucher in a roommate situation," Ochs says. "So that expands the housing stock in our community."
Homes for Good depends on Lane County partners like ShelterCare, Saint Vincent DePaul and Catholic Community Services to help facilitate housing assistance to vulnerable populations.
Veterans are able to access Section 8 vouchers through specifically targeted programs. Veterans Affairs Supportive Housing vouchers help with costs not covered by Section 8—things like security deposits.
Years ago, Homes for Good adopted policies to ensure the rights of victims under the Violence Against Women Act. Lane County's domestic violence service agency receives "preference" vouchers each year to help survivors find safe housing.
Julie Weismann is Executive Director at WomenSpace in Eugene.
"We receive I believe 25 each year," she says. "And we try to make sure they are ready."
Womenspace offers the Turning Point program to help abuse victims with the copious amount of paperwork required for housing assistance.
"Qualifying for a Section 8 voucher is complicated," she states.
Weismann says when a survivor is fleeing violence, safe shelter is the first move.
"So they've gone from housed to sheltered," Weismann explains. "And what happens is—and this is the most heart breaking part of it—because we do not have housing available to us with this really small vacancy rate- our populations compete with everybody else."
With all the challenges, Weismann says housing assistance has changed the lives of domestic abuse victims.
"We had a family who had a special needs child. So right there she's in a situation where it becomes incredibly difficult to earn enough income to be able to help take care of the child," Weismann says. "Section 8 voucher, as soon as she was qualified, helped immediately to stabilize her, get her prepared for permanent housing. And now she has a really good, high paying job. She reports back, her kid's doing wonderful in school."
The Section 8 Wait List in Lane County will be open for eight days starting on November 12th, 2019.
For more information on Section 8 or the Housing Choice Voucher Program:
https://homesforgood.org/find-a-home/section-8/details
For Section 8 Wait List information and applications:
https://homesforgood.org/find-a-home/section-8/wait-list
For more on Womenspace services in Lane County: